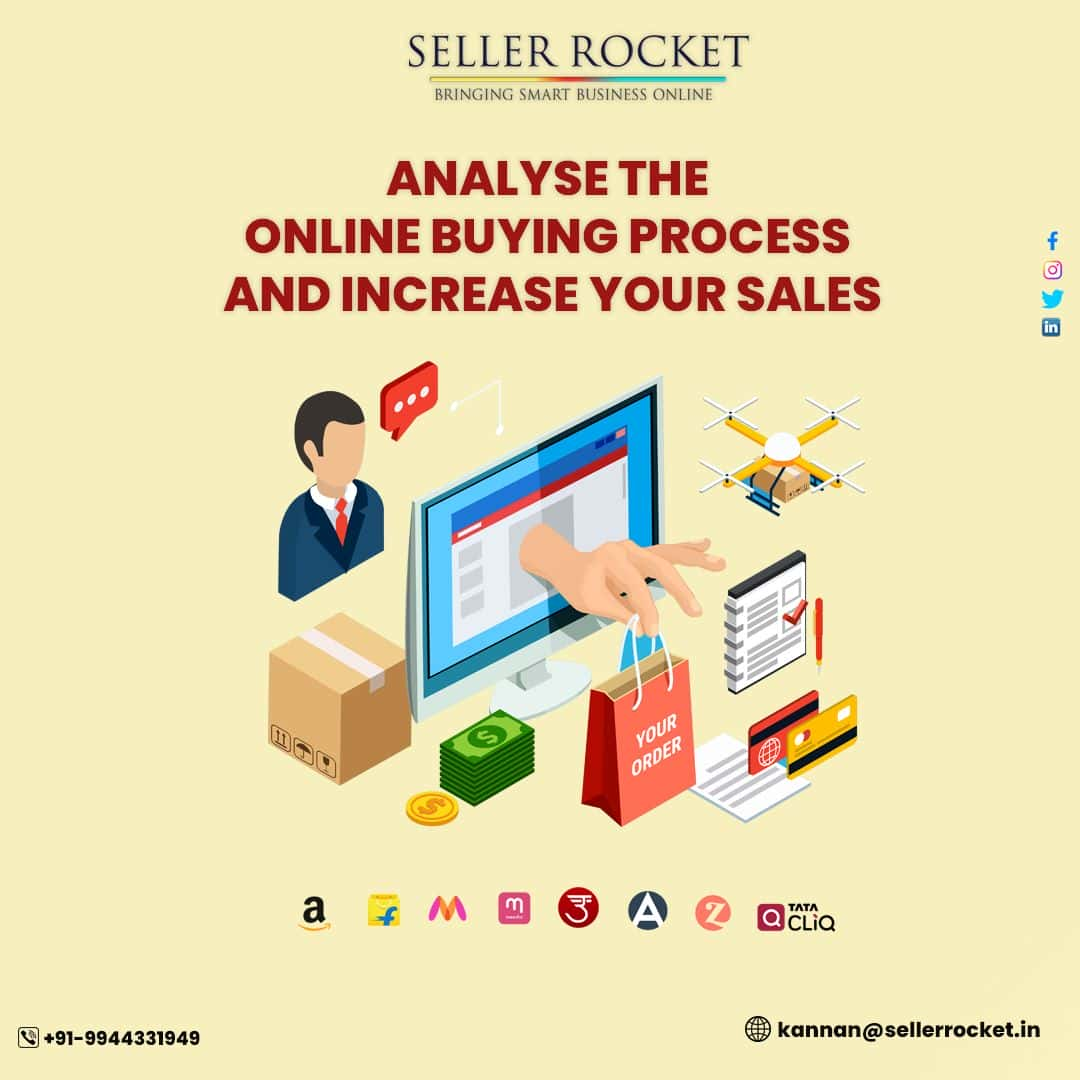 Each and every one of us goes through some sort of buying process when we make a purchase. So it is necessary to analyze the buying process which will uplift your sales. Generally speaking, the buying process can be categorized into five steps.
𝐒𝐓𝐄𝐏 𝟏 -𝐁𝐑𝐀𝐍𝐃 𝐀𝐖𝐀𝐑𝐄𝐍𝐄𝐒𝐒:
Among various brands in the market if you want to be showcased unique work on your brand awareness with proper listing , size chart and affordable price.
𝐒𝐓𝐄𝐏 𝟐 – 𝐈𝐍𝐅𝐎𝐑𝐌𝐀𝐓𝐈𝐎𝐍 𝐒𝐄𝐀𝐑𝐂𝐇:
Once the choice has been made to fulfill the customer's need or want, our customer or reader begins to search for information in order to make a quality decision that is in his/her best interest. Phone calls might be made and websites may be visited. We should plan properly for our information visibility.
𝐒𝐓𝐄𝐏 𝟑- 𝐏𝐑𝐎𝐕𝐄 𝐘𝐎𝐔𝐑 𝐈𝐍𝐅𝐎𝐑𝐌𝐀𝐓𝐈𝐎𝐍:
after providing information to your customers make sure that you prove your information by Comparison of various products with yours With your testimonies With your unique features and factors, Thus you will stand out from the competition
𝐒𝐓𝐄𝐏 𝟒: 𝐏𝐑𝐎𝐕𝐈𝐃𝐄 𝐂𝐔𝐒𝐓𝐎𝐌𝐄𝐑 𝐅𝐑𝐈𝐄𝐍𝐃𝐋𝐘 𝐏𝐑𝐎𝐂𝐄𝐒𝐒
After all detailed evaluation,the customer will be in the mindset to purchase our products. Reassure your purchase by explaining the process which should include 24/7 customer care , shipping process ,post support after purchase
𝐒𝐓𝐄𝐏 𝟓: 𝐑𝐄𝐒𝐎𝐋𝐕𝐄 𝐏𝐎𝐒𝐓-𝐏𝐔𝐑𝐂𝐇𝐀𝐒𝐄 𝐀𝐍𝐗𝐈𝐄𝐓𝐘 :
Generally speaking, a guarantee is psychological support rather than a literal one. However, if a guarantee wasn't offered, the anxiety feeling all alone could overcome many buyers and persuade them to ask for a refund. If you analyze the process and rectify the defects, you'll increase your chances of making more sales and landing more satisfied customers. #onlineselling #onlineshopping #onlinecommunity #onlineads #sellerrocket
Leave a comment