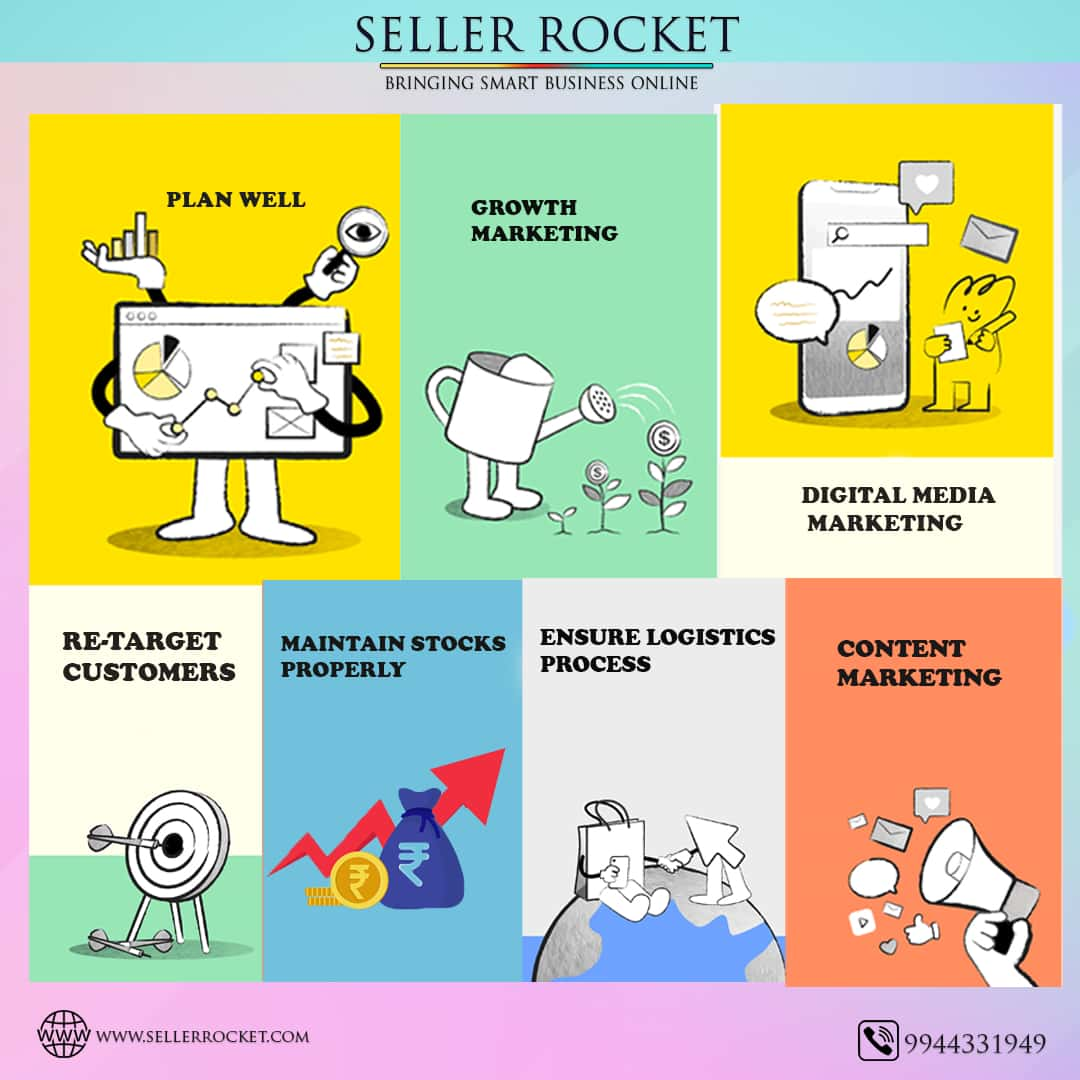 We Indians Have Emotional Connections Towards Festivals , Thus The Months Of October-November Experiences Enormous Growth In Sales, As Diwali Is Celebrated At This Time. For Diwali, Which Is One Of The Biggest Festivals In India, People Has The Mindset Of Buying New Clothes, Jewelery, Household Appliances, Vehicles, Etc.
1.Plan Well It Is Important To Identify The Products Which Gives You Good Profitability And It Should Have A Great Demand ,As Well As It Should Accustom Offer Discounts Accordingly. Also, The Holiday Seasons Are The Busiest Days Of The Operations ,So All The Research And Planning Activities Need To Be Ready Well Before The Holiday Seasons
2.Growth Marketing: Marketing Is The Key To Festive Sales. All The Discounts And Offers Need To Reach The Masses As Soon As The Holiday Season Begins. The Traffic On The Website Is The Direct Outcome Of Marketing Activities. Follow Various Marketing Strategies ,Don't Stick On To A Single Strategy
3.Digital Marketing Strategy The Following Are Some Of The Simple Marketing Ideas To Boost Sales.
Catchy Landing Pages, Popups & Banners attractive : All These Website Will Trigger Awareness Among The Visitor And Will Convert It To Sales . Good Social Media Strategy: Highlight The Discount And Exciting Offers On All Of Your Brand's Social Media Platforms. It Will Effectively Increase The Sales. Email Marketing: A Catchy Email Introduction And Design Can Bring More Traffic To The Website And Can Be Eventually Be Converted Into Sales.It Builds Up Connection With Customers.
4. Content Marketing Strategy : Content Should Be Delivered In The Best Possible Way So That Your Brand Will Connect With Your Audience. Share Your Ideas Consitently As Diwali Blogs . This Will Help Connect Your Online Business With Your Customers.
5.Maintain Stocks Properly: Always Have In Mind That Festive Season Will Have An Overwhelming Response. To Meet The Immediate Rise In Demand It Is Necessary To Have A Solid Inventory In Place. If The Product Goes Out Of Stock And The Demand Is Still Prevailing, Then it Is A Direct Loss Of An Ecommerce Store. So Concentrate
6.Ensure Proper Logistics Process: A Quick And Easily Communicable Logistics Process Can Accelerate The Whole Process And Reflect Good Customer Satisfaction Which Ultimately Helps To Create A Loyal Customer Base.
7. Re-Target Customers The Most Crucial Step To Boost Sales Is To Re-Target The Customers Who Have Shown Their Interest In Your Product/Service, On Earlier Occasions. Identify Them, Provide Them Your Discount Offers And Retain Them .
Follow This Methods And You Will Be Pleasantly Surprised To Find The Sales For Your Online Business Booming! Wish You All A Happy & Prosperous Diwali!
Leave a comment